PdOC is pleased to welcome roboticist and cartoonist Jorge Cham to deliver his lecture "The Power of Procrastination: Academic Stimulus Package", followed by garden drinks and a three-course dinner at Trinity Hall.
Bookings for dinner are now closed (but see note below). A few places are available to attend just the lecture.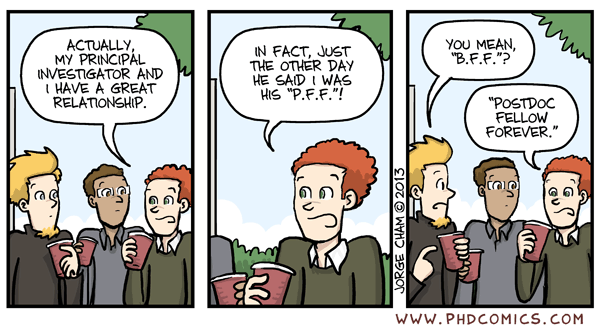 To attend just the lecture, please pay for your ticket (£15) using the following Paypal button.
This promises to be an evening of informed entertainment and delicious food in college surroundings with plenty of opportunities to network and socialise with fellow postdocs.
A note about locations: the lecture will take place at Trinity Hall's WYNG Gardens site on Thomsons Lane (CB5 8AQ). After the lecture, dinner will be at the main site on Trinity Lane; we will walk the short distance between the two.
Ticket prices are £45 with alcohol or £39 without. Please both register on the Google Form (including your menu choices) and pay using the Paypal button below.