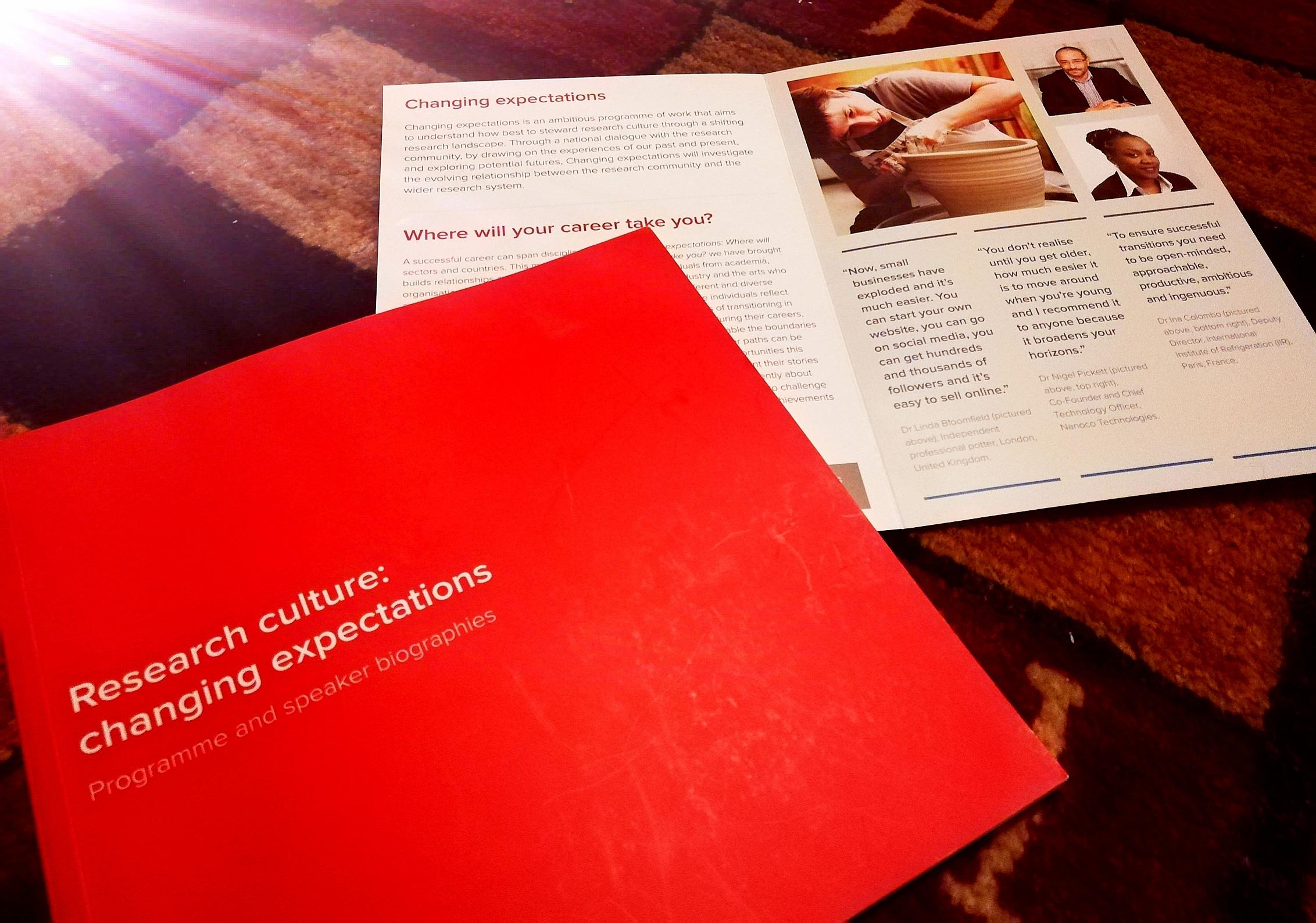 The Royal Society Conference Attendee Report:
"Research Culture: Changing Expectations"
"Research Culture: Changing Expectations" is a conference that crowns the Royal Society's two year programme on research culture. It stimulated kinetic conversations and debates around researcher development and career progression, research assessment and dissemination, as well as research integrity and inclusion. It aims to start a dialogue for sharing and building on best practice across the sector, and find ways to create a thriving cultural environment for research and researchers.
Across two days attendees explored how individuals can catalyse change in the academic system and its current norms. I was there as an astrophysicist, science communicator, gender equality advocate and Representation & Policy Officer at PdOC. Here are some highlights.
The first plenary talk was Changing research culture by Dame Julia Slingo, who started with the definition of research as being a creative systematic process that aims to increase the stock of knowledge of humans, culture and society, and the use of that knowledge to devise new applications. She was behind the MET office Science Profession Continuing Professional Development handbook which highlights important aspects such as internal and external secondments, mentoring and progression, personal learning and development, as well as diversity and inclusion. She highlighted the importance of accounting for the time off carers take and the tough decisions women face which may affect their career progression. According to Slingo, it's important to have sympathetic and flexible work styles, and promotion must be merit-based but assessment of merit should take into account personal circumstances. She emphasised the importance of providing creative, innovative and flexible working environments that encourage collaboration and partnerships. She also emphasised supporting the parent, scientist and carer, enabling mobility and cross-disciplinary thinking as well as recognising and championing diversity.
This was followed by a panel discussion on "What are the key features of a future ideal research culture?" which presented "revolutionary" solutions.
Richard Massey from University of Durham started by mentioning the lack of a universal definition for "Early-Career researcher". He believes that because ECRs do most of the research work, any research culture should value these postdocs and encourage them to take risks and think radically. They should be given space and time for creative ideas. It was mentioned how applying for jobs every six months is counter-creative.
Louise Heathwaite emphasised the importance of fostering an interdisciplinary research culture that allows investing in risky ventures. She also highlighted the disconnect between scientists and civil-servants and the good model Cambridge Centre Science and Policy CSAP presents as an immersive route for exposing policymakers to science.
Adam Rutherford, a BBC Broadcaster and scientific writer, called for doubling the GDP spending on science. He also called to end journal publishing and thinks that commercial journals ineffectively curate research. He advocated interdisciplinarity, science communication and the social role of scientists.
Eugenia Cheng, a Scientist in Residence at the School of the Art Institute of Chicago, capitalised on the importance of inclusivity and creating a welcoming culture. She strongly believes in removing competition, focusing on collaboration and science communication, and removing the dichotomy between scientists and teachers. She questions the need to validate our research  by putting a stamp of "grown-up" journals on it.
Then Susan Wessler, Home Secretary at the National Academy of Science highlighted the importance of diversifying the faculty and student body. She discussed her work on the Dynamic Genome Program at UC Riverside. The programme involves young students in authentic research projects early on through intensive lab experiments that attempt to answer a question. Her experience shows that by doing live research, undergrads learn how the facts thay read in textbooks came to be, and more students stay in biology and science in general in grad school (and even later).
A series of lightening talks were then presented on open science (open data, open source, open protocol, open access) which improves scrutiny and transparency. Raising the visibility of women in science and the value of teamwork were also highlighted as key principles.
Sir Mark Walport, Chief Executive at UK Research and Innovation, capitalised  in his plenary talk that research culture is a fundamental issue for the UK research and innovation. He is of the opinion that the current hyper-competitive environment, the pressure to publish in prestige journals, and the current rewards system are all geared towards individuals rather than teams. He also highlighted the insufficient focus on breadth of talent and diversity and the need for a system to tackle that.
 
This was followed by another panel session on the role attitudes and beliefs of individuals play in a research culture. Robert-Jan Smits from Open Access Envoy of the European Commission talked about the current drivers of change being big data, the technologies to mine the data, growth of research communities, and the increasing societal demand for better communication and higher accountability. He emphasised the need to provide full immediate access to open science, getting rid of our obsession with impact factor, involving the citizen in setting the research agenda, providing financial incentives to drive change and break through established cultures.
Jenny Rohn, University College London, talked about the pyramid scheme of academic research with PhD students feeding its base, then postdocs trying to find their way up, then professors on the top. She presented statistics that 80% of postdocs want permanent positions but only 3-10% actually get them. She thinks this presents a need to find alternative job options. She also called for more transparency, engagement and openness.
Andrea Brand from Cambridge University pondered the narrow idea of success in our culture and the stereotypical image of what a successful scientist looks like in the public eye. She called to remove science from behind paywalls and reward scientists for teaching not just publishing. Tom McLeish, University of York, shares the sentiment and thinks that the detachment of the public from scientific research is unfortunate because of shutting science behind laboratory doors.
Margaret Heffernan, entrepreneur, Chief Executive and author then gave a talk on how a sink-or-swim culture fosters perverse outcomes. She thinks that high achieving teams are those that score high on empathy and connectedness, are diverse and have more women (probably because those score more highly on the empathy quotient). She thinks this motivates us to get to know each other as human beings and work collaboratively. She called for making science a social activity not just an intellectual activity that is characterised by generosity, reciprocity and respect. This would create a culture of hopefulness for high creativity and innovation.
The conference included working groups on what changes individuals can make to improve the research culture. We drew on positive examples from industry such as team work and the existing structure of 360 degree evaluation which assesses the personality of applicants not just their academic kudos. Others suggested that collaborations should grow organically rather than be forced so they can add value. Other group members think that reducing PhDs is not an ideal option as the PhD period provides training and essential transferable skills that are valuable to society. Some called for severe sanctions against bullies.
The conference also featured a pitching competition as part of their 'Improving Research Culture'. Alex Freeman won both the public vote and the judges' for her idea "Octopus", a free open publication platform for all scientific research.
Sir Venki Ramakrishnan, President of the Royal Society, shared what he thought of the proposed ideas, some being worthy, some are well-intentioned, others are idealistic. He thinks that the individual spark of creativity is still important, and competition and collaboration should both exist. He emphasised that journals should be used as form of validation and getting kudos not as a definition of success. He mentioned that recommendations present a power differential that gives rise to unchecked bullying, and thus we need more accountability and transparent reporting. He also thinks that "money talks" and so funders can influence policy. We can act against bullying and other types misconduct by requesting certain structures to be in place at the institutes they fund (Wellcome Trust being one such example).
The event provided a creative space for innovative and consolidated thinking across the breadth and depth of the UK research community. We hope this PdOC report documents to some extent the insights, aspirations and challenges collected across the two days. It can hopefully also serve as a record of some of the current challenges and concerns, areas where agility and urgent change are needed, and some emerging ideas about how we can catalyse this change in our own institutions across the UK.
---
Dr. Ghina Halabi is an astrophysicist, science communicator and gender equality advocate at the Institute of Astronomy, University of Cambridge. She is a Junior Research Fellow of Wolfson College and currently serves as University Representation & Policy Officer at the Postdocs of Cambridge Society (PdOC). She acknowledges the support from Wolfson College to attend the conference.
www.ghina.co.uk
@Dr_GhinaHalabi
Disclaimer: This is a non-partisan report of the proceedings of the conference. The views expressed are those of the attendees and not necessarily endorsed by PdOC or any college or institution the author is part of.
---