Cambridge
Cambridge is first and foremost a University city. The University of Cambridge and its Colleges dominate the architecture of the city centre, with the river Cam winding through it is one of the most picturesque cities in the UK.
The city with its rich history and famous colleges attracts visitors from all over the world. The University has an impressive array of museums holding scholarly history of world famous academics who have been based at the University since 1209. Aside from the city's educational notoriety, it was voted the UK's best retail destination in 2017.
The University of Cambridge is one of the world's oldest academic institutes and has a world reputation for outstanding intellectual achievement and original research carried out by the staff of the University and Colleges – including about 4000 post-doctoral researchers
The Postdocs of Cambridge (PdOC) Society is the senior University Society representing postdocs and we work to improve career development provisions, contract research conditions, college affiliations and social and sporting events, and much more. There is no membership fee and all Cambridge postdocs are welcome to join in. This year we are hosting the first National Postdoc Meeting, with the theme "Postdocs, Policy and the Future".
Meeting Venue
Eddington, North West Cambridge
Eddington is a new development, in the north west part of Cambridge. This 150-hectare site is just 2 miles from the city centre and will when finished incorporate schools, a community centre, shopping district and housing for key workers from the University of Cambridge. The accommodation includes affordable housing for postdocs based at the University of Cambridge and affiliated partner institutions.
Eddington is also the site of the new Postdoc Centre, which will have its grand opening in conjunctions with the National Postdoc Meeting. There are currently two functioning smaller Postdoc Centres in Cambridge maintained by the Office of Postdoctoral Affairs (OPdA).
The National Postdoc Meeting will be the first event to take place at the new Postdoc Centre at Eddington, Cambridge!
Please note that some parts of Eddington are still a building site. There will be ample signs around the area, but please allow extra time to find the venue.
Eddington has boundaries with the M11 to the west, Huntington Road to the North and Madingley Road to the south. From Eddington it is a short cycle ride to the city centre and into the beautiful Cambridgeshire countryside.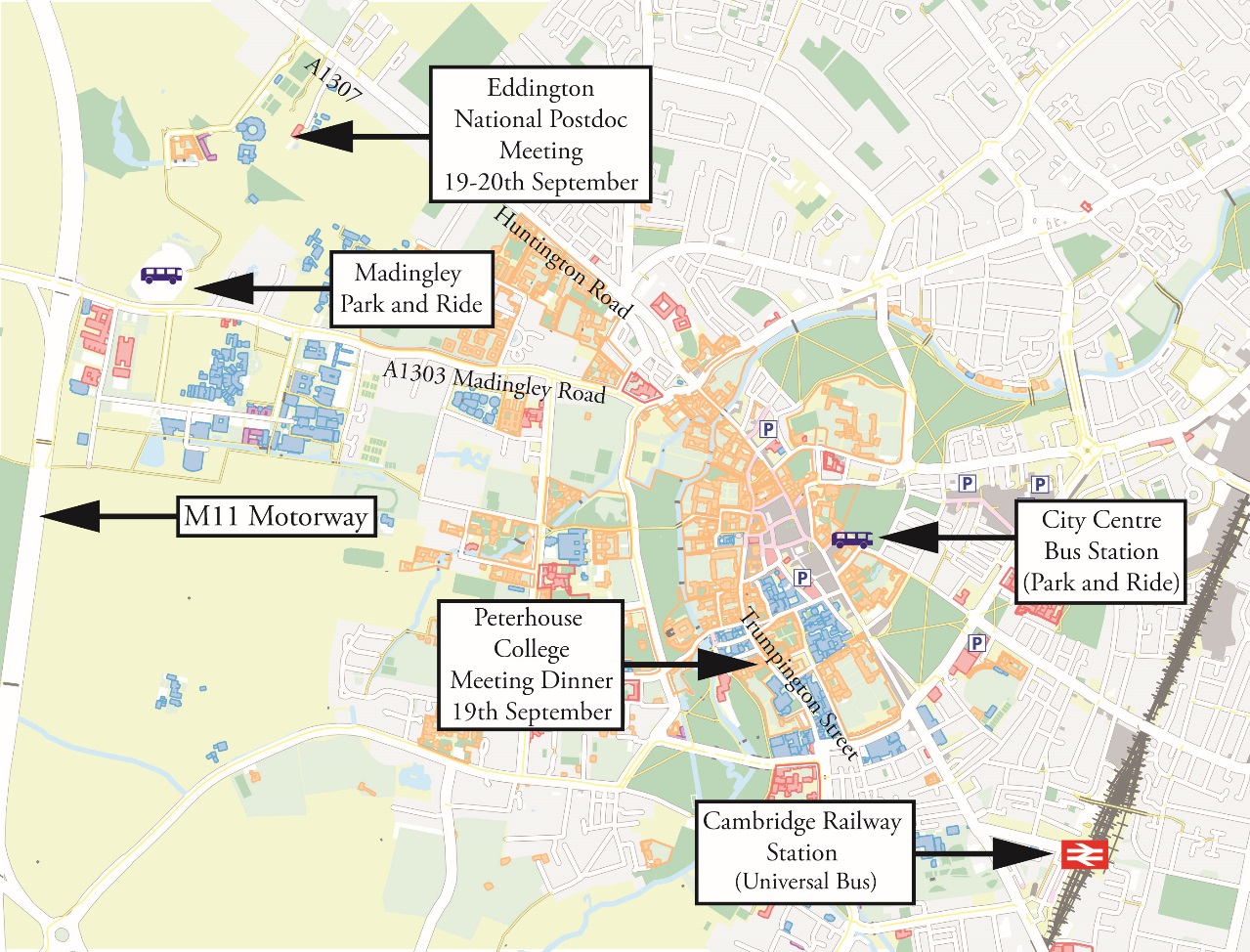 How to get here
Eddington is a brand new development and as such is not on any navigation resources such as google maps. However, it can be found on Open Street Map and the University Map. The Meeting will take place in what is called 'Block 2D' on these maps.
By Car
From the M11 take junction 13 for Madingley road or Junction 14 for Huntington road.
From the city centre, it is approximately 15 minutes' drive to Eddington (but much longer during peak traffic times).
Parking on site is limited. Parking is available at the Madingley Park and Ride site just south of Eddington,  approximately 10 minutes walk from the new Postdoc Centre. This costs £1 per day.
By Public Transport
Trains to Cambridge
Cambridge Station is well connected by train. There are frequent direct trains from London Kings Cross and a stopping service from both London Kings Cross (Great Western) and London Liverpool Street (Abellio Greater Anglia). London Liverpool Street trains booked in advance from Abellio Greater Anglia can be cheaper but tickets must be used on specific trains.
The new Cambridge North Station is now open but there is less bus options and connections than from the Cambridge Centre Rail Station.
Buses to Eddington from City centre/Rail Station
The University Universal 'U' bus will be running to Eddington from 8th September. It runs from Addenbrooke's Hospital via the Rail Station and City Centre every 15 minutes and takes approximately 30 minutes to Eddington Sainsbury's (close to The Postdoc Centre). Cost is £2 flat rate per journey (£1 for University of Cambridge card holders). A return journey will cost £3.
Madingley Park and Ride Bus – Runs from City Centre to Park and Ride site which is just south of Eddington. The bus takes approximately 15 minutes and a return journey is £3.
Bus 5 – From Emmanuel Street take the Citi5 towards Bar Hill/Swavesey. Alight at Thornton Road bus stop on Huntington Road and walk down Eddington Avenue towards The Postdoc Centre. A 'dayrider' all day ticket is £4.30.
Local bus timetables will be available at the National Postdoc Meeting.
Taxi from city centre
There is a taxi rank for metered taxis at the train station. It is approximately 20 minutes to North West Cambridge, which should cost approximately £10.
There are two popular taxi companies in Cambridge, which can be pre-booked.
Camcabs – 01223 704 704
Panther – 01223 715 715
Uber has also recently become available in Cambridge.
By Bike from city centre
Cambridge is well connected by a modern extensive cycle network. Cycling to Eddington is easiest by National Cycle Route 51. Which will take 15 minutes from the city centre and 18 minutes from the train station. Cycle hire is available from the station (Rutland Cycles).
Ofo Bike hire is available by downloading the dedicated app. These are bright yellow hire bikes without docking stations which can be collected and left anywhere in Cambridge.